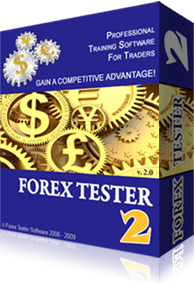 During my early years in Forex, i laid my hands on virtually every training tool that would teach me how to trade the Forex. I had issues practicing what i learnt on Forex Trading directly on the demo account due to certain limitations.
This led me to search for simulation training utilities that would supplement the demo account, handle its limitations, and give me faster results. Forex Tester was the best tool amongst the other simulation tools i found for professional training. This article tells us clearly why this software is the best professional Forex training software and its wonderful abilities over the demo account.
Forex Tester Has Announced They Would Be Offering a 25% Discount On All Their Licenses Starting From 5th December to January 1st 2014
Forex Tester is a specialized software designed exclusively for accurately simulating Forex trading. It is the best tool for quickly improving your trading skills, testing out new strategies and developing confidence without risking any real money.
The Tester has over 10 years of historical data that you can use to test any strategy. Depending on the time frame selected, you can simulate trading years of data in just a few hours. It is a free standing separate program that comes with its own extensive selection of indicators including Moving Averages, Bollinger Bands, MACDs, Pivot Points, Parabolic-SAR, RSI, Stochastic, Keltner Channels, Heiken Ashi candles, and many more. Choose from 18 different currencies to test, including gold and silver.
It is also a very effective and powerful tool for testing out your automated strategy. The results are accurate and can be trusted to be a viable set of statistics that can give you the information you need to determine if your strategy is robust.
EA Wizard - Automated Strategy and Expert Advisor Development Software (No Programming Required)
Why Use A Forex Simulator?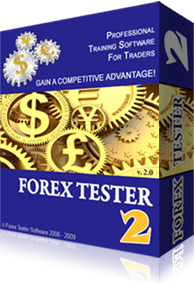 The first step in refining your trading skills and strategies is to accept that this is a process thatrepetition, practice and reinforcement. This is where a Forex trading simulator is very useful. It will train, save you money and ensure that you don't start out a loser.
Many novice traders rush into Forex trading enticed by broker ads of 400:1 leverage; free real time demo accounts or simply by the thrill of getting into the action. Even those that test their signals service or trading strategies in real time to see how they perform don't do so adequately. In any case, there is a limit to how much you can gain from real time practice: testing trading strategies with live demo trading accounts is only useful if you know what you are doing.
Unlike a live Forex demo account which functions in real time, a Forex simulator enables users to
upload, view and review historical data at any given point in time. Used to confirm one's understanding of pattern recognition and trading signals, data can be rewound and fast forwarded to test and retest your knowledge and understanding.
Using a Forex simulator enables you to get months of training in just a few days work because you can pause, rewind, fast forward. You can set up 5 minute timeframes to up to what ever you choose. You can take snapshots of trades. You can use any indicator you like. You can keep a trade journal and refine your strategy.
Demo Account vs Forex Tester
Some traders prefer to train on a demo account and do not understand why they need a market simulator. Demo account is a wonderful thing. It allows training without any risk to lose real money and at the same time gaining all necessary trading skills and checking your trading system. But demo account has one very significant disadvantage – you may spend years on studying how to trade. Market changes quite slow, and you can not do anything about that. You can not control the time!
Just imagine: you have a trading strategy which works on a daily timeframe and all orders are
executed once a week. How much time will you need to test your strategy? Half a year will pass when you realize you need to change some parameters, then half a year again and again. With Forex Tester you would be able to test such a strategy within a couple of hours.
Let's look at another example: your strategy needs the orders to be opened every Monday at 10 a.m. Thus, you have to be at the traders terminal at the same time every Monday. But what if you have to work at this time, become ill or skipped the trade by some other reason? The statistics will be broken. But for Forex Tester there is no time limitation, you can test on weekends (when market is closed), in the evening after your work, etc. You can pause testing, and continue it at any time.
On demo account you do not have any opportunity to come back in time and correct a mistake. If you made a mistake, it will remain, spoiling your strategy statistics. But this is not a problem for Forex Tester! It works like a time machine, you can go back to any time and it will restore all your closed trades and open positions to this moment. Now time is under your control!
Forex Tester Options Compare To Demo Account
| | | |
| --- | --- | --- |
| Option | Forex Tester | Demo account |
| To gain trading skills at Forex market without risking your real money | | |
| To test a trading strategy | | |
| To test any time period from the history | | |
| To postpone testing and proceed it at any suitable time for you | | |
| The opportunity to come back in time and cancel or restore closed trade | | |
| To control speed of testing (time speed) | | |
| To test a strategy on the same period of history with different parameters many times | | |
Trial Versions are available only with some limitations concerning the history length, which you can test and possibilities to save testing results. If you decide to purchase Forex Tester, then after entering the registration key all the limitations will be deselected and the program will be fully-functional.